 Holden
Gwyneth had a beloved black labrador named Holden, who passed away in 2005.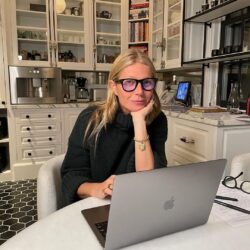 Birthday
September 27, 1972 (50)
Gwyneth Kate Paltrow started her career in acting in her teens. Through her success at acting and later with her media and ecommerce website Goop, she has earned an estimated net worth of $60 million. Her first role was in High, a TV movie directed by her father in 1989. Her feature film debut was in Shout, which starred John Travolta in 1991. This was the same year she appeared as the young Wendy Darling in Steven Spielberg's Hook. in 1995 she entered the celebrity spotlight playing Brad Pitt's wife in the movie Se7en, who she had been dating for the last couple years.
Over the next few years she starred in Sliding Doors, Great Expectations and several other successful films. This led up to her starring role in Shakespeare in Love, when she was a box office hit and earned her critical acclaim, winning her a Best Actress Oscar and a Best Actress Golden Globe Award.
In 2003, she married Chris Martin of the band Coldplay, who she had two kids and one dog with, before divorcing in 2016. During the 2000s, she was less active as an actor while raising their two children. In the late 2000s, she started to work as a food writer, which lead to the launch of her weekly lifestyle newsletter called Goop in 2008. Goop has since turned into a highly publicized lifestyle blog and ecommerce site.