 No Pets (Herbie Hancock)
Herbie Hancock does not have any reported pets.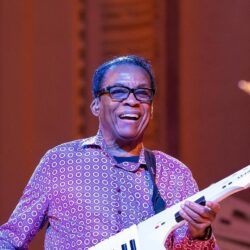 Birthday
April 12, 1940 (83)
Herbie Hancock is an American jazz pianist, keyboardist, and composer celebrated for his roles in albums like "Head Hunters" and the groundbreaking "Future Shock."
Hancock's music career has spanned multiple genres, with projects ranging from post-bop to electronic jazz fusion. He achieved mainstream recognition with albums such as "Maiden Voyage" and "Head Hunters," the latter of which remains one of the best-selling jazz albums of all time. His 1983 electronic track "Rockit" was a significant departure from traditional jazz, merging turntablism and synthesizers, thus making a colossal impact on the dance and hip-hop communities.
Hancock's collaborations read like a who's who of the music world. His collaborations with Wayne Shorter, Ron Carter, and Tony Williams in the Miles Davis Quintet set the standard for post-bop jazz in the 1960s. His work with Chick Corea, a series of piano duets, pushed the boundaries of jazz improvisation. Further, his associations with Paul Simon, Stevie Wonder, Joni Mitchell, Lang Lang, Wynton Marsalis, Tina Turner, and Carlos Santana have shown his ability to traverse genres effortlessly. His involvement in various projects with the likes of Quincy Jones and Leonard Bernstein underscores the broad spectrum of his artistic engagement.
With 14 Grammy Awards to his name, Hancock's achievements in the music industry are numerous. His album "River: The Joni Letters" won the Grammy for Album of the Year in 2008, making him one of the few jazz musicians to ever receive this honor. He's also received an Academy Award for his original score for the film "'Round Midnight" in 1986. Hancock was named a UNESCO Goodwill Ambassador in 2011 for his contributions to the promotion of peace through dialogue, culture, and the arts.