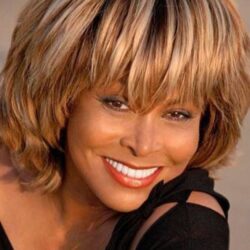 Birthday
November 26, 1939 (83)
Tina Turner, a renowned singer, songwriter, and actress, has left an indelible mark on the music industry. Best known for her powerful vocals, electrifying stage presence, and dynamic performances, Turner's career spans several decades, making her one of the most iconic figures in popular music. With a distinctive voice that effortlessly blended rock, pop, soul, and R&B, Turner has captivated audiences around the world with hits like "Proud Mary," "What's Love Got to Do with It," and "Simply the Best."
Throughout her illustrious career, Tina Turner collaborated with numerous artists, musicians, and celebrities, showcasing her versatility and wide-ranging appeal. She joined forces with legendary musicians such as Mick Jagger, David Bowie, and Bryan Adams, lending her vocal prowess to collaborations like "Dancing in the Street," "Tonight," and "It's Only Love." Turner's magnetic presence also caught the attention of film directors, leading to her appearances in movies like "Tommy" and "Mad Max Beyond Thunderdome," where she showcased her acting skills alongside renowned actors and actresses.
Beyond her collaborations, Tina Turner's career boasts many notable achievements. She is a recipient of multiple prestigious awards, including multiple Grammy Awards, American Music Awards, and induction into the Rock and Roll Hall of Fame. Turner's live performances, characterized by her electrifying stage presence and soulful delivery, have enthralled audiences in sold-out arenas worldwide. Her autobiography, "I, Tina," which candidly explores her personal and professional journey, became a best-seller.
Tina Turner passed away at the age of 83 in May 2023.