 Dogs Accident Airport
Two dogs that belonged to John Travolta passed away due to an accident on the Bangor International Airport in Maine in May 2010. An unidentified person who was not a member of the Travolta family but "a liaison" for them took the two dogs for a walk. A pickup truck driven by an airport employee was approaching the aircraft when it apparently struck and killed the animals.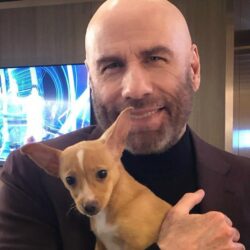 Birthday
February 18, 1954 (69)
John Travolta is an American actor and singer. He rose to fame during the 1970s, appearing on the television sitcom Welcome Back, Kotter (1975–1979) and starring in the box office successes Carrie (1976), Saturday Night Fever (1977), Grease (1978), and Urban Cowboy (1980). His acting career declined throughout the 1980s, but he enjoyed a resurgence in the 1990s with his role in Pulp Fiction (1994) and has since starred in the films Get Shorty (1995), Broken Arrow (1996), Phenomenon (1996), Face/Off (1997), A Civil Action (1998), Primary Colors (1998), Hairspray (2007), and Bolt (2008).
Travolta was nominated for the Academy Award for Best Actor for performances in Saturday Night Fever and Pulp Fiction. He won a Golden Globe Award for Best Actor in a Motion Picture – Musical or Comedy for his performance in Get Shorty and has received a total of six nominations, the most recent being in 2011. In 2014, he received the IIFA Award for Outstanding Achievement in International Cinema. In 2016, Travolta received his first Primetime Emmy Award, as a producer of the first season of the anthology series American Crime Story, subtitled The People v. O. J. Simpson. He also received an additional Emmy nomination and a Golden Globe nomination for his portrayal of lawyer Robert Shapiro in the series. Travolta is also a private pilot and owns four aircraft.