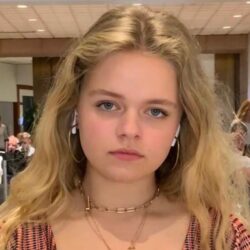 Birthday
February 18, 2004 (19)
Kylie Rogers is an American actress, most recently known for her role as Nathan Lane and Amy Ryan's daughter in Beau Is Afraid (2023), which starred Joaquin Phoenix.
Rogers first captured audiences' attention with her heartfelt performance as Minx Lawrence in ABC's science-fiction drama series The Whispers. This role helped establish her as a capable young actress and opened doors to other significant roles. Her other TV appearances include Once Upon a Time in Wonderland and Private Practice, both of which highlighted her range as a performer. On the big screen, Rogers' breakout role came in the acclaimed film Miracles from Heaven, where she convincingly portrayed a young girl suffering from a rare, incurable disease.
Throughout her career, Kylie Rogers has collaborated with a variety of esteemed artists. Sharing the screen with Jennifer Garner in Miracles from Heaven brought her considerable recognition. In the thriller movie Mojave, she worked under the direction of William Monahan, the Oscar-winning writer of The Departed, and alongside actors like Oscar Isaac and Mark Wahlberg. In the television sphere, Rogers has worked with actors like Barry Sloane and Lily Rabe in The Whispers. Her performance in the series Once Upon a Time in Wonderland had her acting opposite familiar faces such as Sophie Lowe and Michael Socha.
At the 38th Young Artist Awards, she received a nomination for Best Performance in a Feature Film – Leading Young Actress (14 – 21) for her role in Miracles from Heaven. Moreover, she was honored with the Spotlight Award at the 20th Annual Hollywood Film Awards for her touching portrayal in the same film.