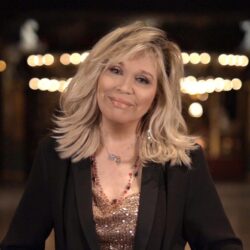 Birthday
November 18, 1939 (84)
Amanda Lear is a European singer, lyricist, painter, and actress, known for her work across multiple entertainment fields. Her career took off in the 1970s with a string of disco hits that captured the zeitgeist of the era. Lear's distinctive voice and glamorous image became her trademark, leading to a successful music career with hits like "Follow Me" and "Queen of Chinatown," which remain enduring disco anthems. Her visual artistry and theatrical flair translated well into television, where she became a popular figure, hosting various shows across European networks.
Lear's discography is extensive, with albums that span four decades, showcasing her adaptability to various music styles, from disco to new wave and beyond. Her television presence has been marked by a unique blend of wit, charm, and cultural commentary, making her a sought-after host and guest star in European broadcasting. Her work in film, though less frequent, includes memorable roles.
Collaboration has been a cornerstone of Lear's career. She has worked with Salvador Dalí, who was instrumental in shaping her early public image. In music, she collaborated with Anthony Monn, her long-time producer who helped craft her most successful tracks. Her associations extend to fashion icons like Paco Rabanne and musicians like David Bowie, with whom she shared a close friendship. Lear also crossed paths with the likes of Bryan Ferry, Giorgio Moroder, and Boy George, contributing to various projects. In the realm of television, she has appeared alongside personalities such as Ivana Trump, La Toya Jackson, and Jean-Paul Gaultier.
Recognition for Lear's work includes various international awards, such as the prestigious "Woman of the Year" in Italy and multiple gold records for her album sales. Her influence on the disco genre has been acknowledged by music historians, and her paintings have been exhibited in galleries across Europe.