 No Pets (Simon Gallup)
Simon Gallup does not have any reported pets.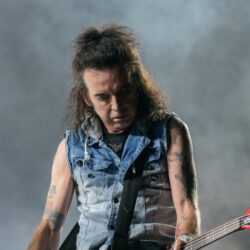 Birthday
June 1, 1960 (63)
Simon Gallup is an English musician, revered for his significant contribution as a bassist to the rock band The Cure. His distinctive playing style and long-standing dedication to the band helped shape the course of alternative rock in the 1980s and beyond.
Starting his career in the late 1970s, Gallup was a part of various bands before finding his stride with The Cure. Noteworthy among his early ventures is the punk band, Lockjaw, where his brother Ric played the drums. However, it was his journey with The Cure, which started in 1979, that truly put him on the global map. Albums like "Seventeen Seconds", "Faith", and "Pornography" significantly contributed to The Cure's success, creating a distinctive sound that fans relished. These albums, with Gallup's pulsating basslines, took the band to the pinnacle of the music charts.
Simon Gallup's career is not only defined by his work in The Cure, but also through his numerous collaborations with notable artists. His collaborative endeavors include Robert Smith, Perry Bamonte, Roger O'Donnell, Boris Williams, Jason Cooper, Reeves Gabrels, Lol Tolhurst, Matthieu Hartley, and Pearl Thompson.
In recognition of his exceptional contribution to the music industry, Gallup has been honored on numerous occasions. The Cure's 2019 induction into the Rock and Roll Hall of Fame is a testament to Gallup's contribution as the band's long-serving bassist. Additionally, The Cure's album "Disintegration", featuring Gallup's memorable bass lines, was included in Rolling Stone's 500 Greatest Albums of All Time.