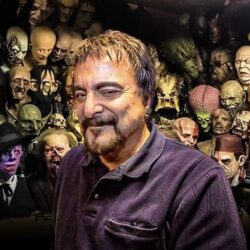 Birthday
November 3, 1946 (76)
Tom Savini is an American actor, director, and makeup artist, celebrated for his innovative work in the field of special effects makeup, particularly in the horror genre.
From the gut-wrenching realism of "Dawn of the Dead" to the cult classic "Friday the 13th," Tom Savini's career spans decades and a multitude of artistic domains. His work as a makeup artist made him a cornerstone in the industry, with groundbreaking contributions that changed the way audiences perceive special effects. Beyond makeup, he has made notable appearances in films like "From Dusk Till Dawn" and television shows such as "Creepshow," showcasing his versatile talent as an actor.
Savini's career is punctuated with memorable collaborations with influential individuals. George A. Romero gave him his big break with "Martin," and their continued collaboration on films like "Dawn of the Dead" and "Day of the Dead" has cemented them as a formidable duo in the horror genre. He has also worked with directors like Robert Rodriguez in "From Dusk Till Dawn" and Quentin Tarantino, who specifically wrote a role for him in the same film. Other significant associations include Tobe Hooper, director of "The Texas Chainsaw Massacre," Bruce Campbell of "Evil Dead" fame, Alice Cooper, the rock legend with whom he collaborated on a stage show, as well as actors like Bill Moseley, Doug Bradley, Tony Todd, and Danny Trejo. His collaborative work has also extended to video games, where he's been featured alongside celebrities like Norman Reedus and Guillermo del Toro in Hideo Kojima's "Silent Hills."
Savini won the Saturn Award for Best Make-Up in 1985 for his work on the film "Day of the Dead." He's also been inducted into the Horror Hall of Fame twice, first in 1991 and again in 1998, establishing him as an esteemed figure in the entertainment industry. His book, "Grande Illusions," remains an influential text for aspiring special effects artists. Additionally, he's been honored with the "Living Dead Award" by the New York City Horror Film Festival for his lifetime contributions to the genre.