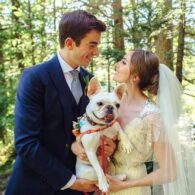 Petunia
John Mulaney has one dog, a French bulldog named Petunia. Petunia is often brought up in Mulaney's standup comedy shows, with the proud fur father describing Petunia as a sassy chain-smoking old lady with a French Accent.
Who got John Mulaney's dog Petunia after his divorce from Anna Marie Tendler?
John shared Petunia with his wife of seven years, Anna Marie Tendler. They announced their divorce in May 2021 and many fans asked who gets custody of Petunia, who has her own fan base with over 130,000 followers on Instagram. Mulaney was going to rehab around that time, with his representative was quoted saying "John will not have any further comment as he continues to focus on his recovery and getting back to work." Petunia has been spotted on ex-wife Tendler's Instagram and hasn't been on Mulaney's Instagram in over a year, speculation is his ex-wife currently cares for Petunia.
John Edmund Mulaney is an American stand-up comedian, writer, actor, and producer. After starting his career as a stand-up comedian, he performed on Late Night with Conan O'Brien. This led to an audition with Saturday Night Live, where he joined as a writer from 2008 to 2013, working alongside Bill Hader. He's released several standup comedy specials, with Kid Gorgeous (2018) winning him the Primetime Emmy Award for Outstanding Writing for a Variety Special. Professionally, he's also known for performing with comedian and actor Nick Kroll. In his personal life, he's in a relationship with actress Olivia Munn, who he had a child with that was born in November 2021.