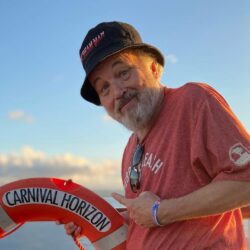 Birthday
April 20, 1959 (64)
Clint Howard is an American character actor with a vast filmography that spans decades, most notably recognized for his roles in films like "Apollo 13" and "Frost/Nixon," as well as his collaborations with his brother, director Ron Howard.
Clint Howard's career has been incredibly versatile, covering a wide array of genres and themes. He made an indelible mark in science fiction with roles in films like "Cocoon" and its sequel "Cocoon: The Return." He demonstrated his skills in drama through movies like "Frost/Nixon" and "Apollo 13," and has also showcased his comedic flair in productions such as "The Waterboy" and "How the Grinch Stole Christmas." Howard has had significant roles on television as well, including series like "Star Trek" and "Gentle Ben," the latter of which showcased his talent from a young age.
His collaborations span the entertainment industry, working with a plethora of notable figures. Most prominently, he has worked extensively with his brother, Ron Howard, on films like "A Beautiful Mind," "Cinderella Man," and "The Da Vinci Code." Other remarkable collaborations include working with Tom Hanks in "Apollo 13," Kevin Costner in "The Big Chill," Steve Martin in "Parenthood," Adam Sandler in "The Waterboy," Jim Carrey in "How the Grinch Stole Christmas," Cate Blanchett in "The Missing," Russell Crowe in "Cinderella Man," Kurt Russell in "Tango and Cash," and even a foray into the music world, appearing in a video with the Smashing Pumpkins, featuring Billy Corgan and James Iha.
Over the years, Howard has received numerous awards that testify to his talent and dedication to the craft. He won the MTV Movie + TV Award for Best Cameo for his role in "Apollo 13," affirming his knack for creating memorable moments in a film. In 2017, Howard received the Lifetime Achievement Award at the 3rd Annual Phillip K. Dick Science Fiction Film Festival, highlighting his long-standing contributions to science fiction cinema.