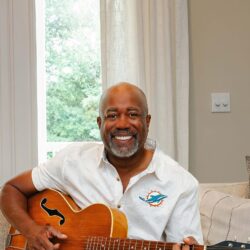 Birthday
May 13, 1966 (57)
Darius Rucker is an American musician and songwriter, best known as the lead vocalist and rhythm guitarist of the rock band Hootie & the Blowfish. Rucker's career began in the mid-1980s, but he rose to fame in the 1990s with Hootie & the Blowfish, releasing several successful albums. His transition to a solo country music artist marked a significant turn in his career.
Rucker's solo career, particularly in country music, has been marked by several hit albums and singles. His debut country album, "Learn to Live," was released in 2008 and included hits like "Don't Think I Don't Think About It," which reached number one on the country charts. This success was followed by other albums such as "Charleston, SC 1966" and "True Believers," featuring popular songs like "Wagon Wheel" and "If I Told You."
Collaborations have been a significant aspect of Rucker's career. He has worked with a diverse range of artists, including Brad Paisley, Adele, Lionel Richie, Jill Scott, Sheryl Crow, Matthew Ramsey of Old Dominion, Charles Kelley of Lady Antebellum, Jason Aldean, Luke Bryan, and Brett Eldredge.
Rucker's career is decorated with numerous awards and recognitions. He won the Grammy Award for Best New Artist with Hootie & the Blowfish in 1996. As a solo artist, he received a Grammy for Best Country Solo Performance for "Wagon Wheel" in 2014. His induction into the Grand Ole Opry in 2012 stands as a testament to his impact on country music.