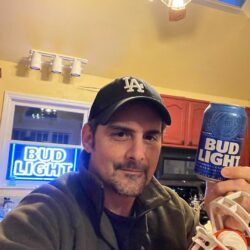 Birthday
October 28, 1972 (50)
Brad Paisley is an American country music singer, songwriter, and guitarist. He has been active in the music industry since the late 1990s and has released 11 studio albums, many of which have been certified platinum or higher.
Paisley's music is known for its combination of traditional country sounds with more contemporary elements, such as rock and pop. He is also known for his clever and often humorous lyrics and his skillful guitar playing.
Paisley has had a string of hit singles throughout his career, including "He Didn't Have to Be," "Mud on the Tires," "Alcohol," "Ticks," "Online," "Water," "Waitin' on a Woman," and "Perfect Storm." He has also won numerous awards, including three Grammy Awards, 14 Academy of Country Music Awards, 14 Country Music Association Awards, and two American Music Awards.
Paisley is also a television personality, serving as a judge on the ABC music competition series "Rising Star" and as the host of the CMA Awards in 2010 and 2011. He is also known for his philanthropy efforts.