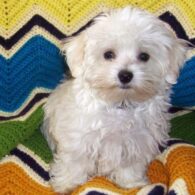 Jerry Michaels
Justin Roiland had two Maltese dogs, but sadly both passed away in April 2022 from cancer. One was named Jerry and was where the character Jerry Smith got his name from on Rick and Morty. Jerry also was the inspiration behind the Smith family's dog Suffles, aka Snowball. Roiland posted this tribute to Jerry on Instagram, "Jerry I love you with all my heart. I cherished every moment I had with you. We will be reunited again. Until then, watch over me and protect me from evil. RIP Jerry Michaels, April 2007 – April 2022 💔💔💔"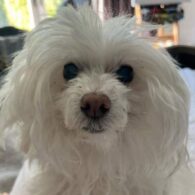 Mharti "Pup Pup" Michaels
Justin Roiland's other Maltese is Mharti Michaels, aka Pup Pup. Sadly like his big brother Jerry, he also passed away from cancer in April 2022. Roiland posted this tribute to Instagram, "I regret how little I post about Pup Pup (Mharti Michaels) Jerry's little brother. Jerry has a black nose, pup has a pink nose. He's 14 and a half. He's not doing well right now either. Jerry and pup both really not doing well. Im only posting this out of guilt for how much I've posted about jerry. I hate social media honestly, but I love this little guy with all my heart and when he's gone I am going to be absolutely destroyed. Just found out his liver is enlarged and it is very likely cancer. I'll know in a few days but everyone is telling me the ultrasound is basically the equivalent of opening an egg to see if there is a yolk inside. So cancer I guess. I always said that when pup got sick it would be fast. And he'd be happy one day and a week later gone. Maybe I manifested that. Jerry is still here with his nose cancer over a year later. Lots of work but he's still here and he's still in there and happy. I'll do whatever I can to keep pup happy, pain free, and around for as long as I can.
Quick edit: yes his face is a little dirty and normally I would clean it, but he hates when I do and at this point I'm not doing anything he hates."
Mark Justin Roiland is an American voice actor, writer, animator, writer, director, and producer. He's best known for co-creating the Adult Swim series Rick and Morty (2013-) with Dan Harmon. he also co-created the Hulu series Solar Opposites (2020-). As a voice actor, he voices both Rick and Morty, and also Korvo, the main character in Solar Opposites. Other notable voice acting roles include Blendin Bladin on Gravity Falls, Oscar on Fish Hooks, and Earl of Lemongrab on Adventure Time. As an animator, he founded the animation studio Solo Vanity Card Productions!. As a video game producer, he founded Squanch Games, which most recently released Trover Saves the Universe (2019) and High on Life (2022). For Rick and Morty, he's won two Primetime Emmy Awards, a Hollywood Critics Association TV Award, A Critics' Choice Television Award, and an Annie Award.