Let me start by saying you're correct in guessing that Rambo is from Florida. Rambo went viral back in 2016 when he was almost separated from his human Mary Ann Thorn. His story started back when he was rescued by Mary Ann Thorn in 2008 when Rambo was 8 years old. Before Thorn took him in, Rambo had been in locked in a tank in a dark closet his whole life.
As a result, Rambo became unable to live in the wild, along with developing a sensitivity to the sun. His sun sensitivity means he can't stay out long in the sun compared to regular alligators, which is partly why he wears clothes. And if he has to wear clothes to keep cool, might as well look cool while he's at it, right?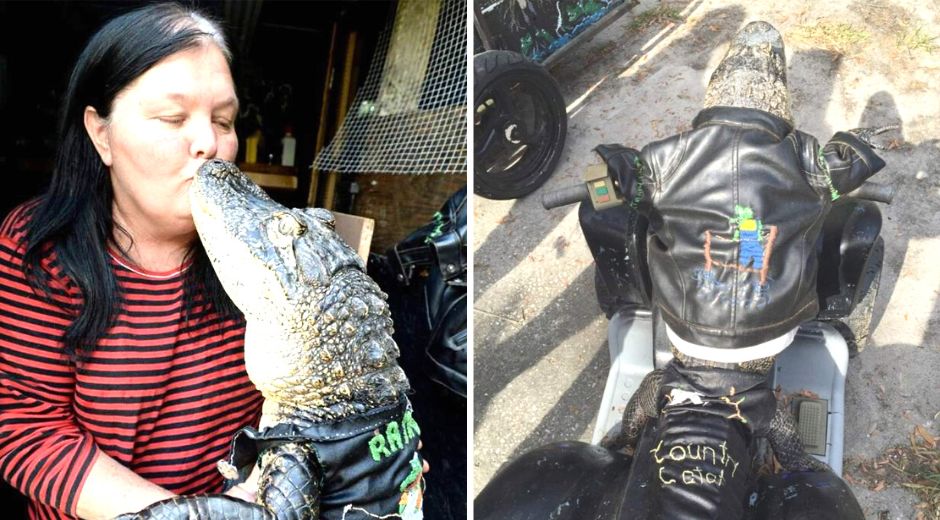 Thorn trained him like a dog and to keep his snout shut when people are around. Rambo plays with his doggy roommates, watches TV on the couch, and even goes to the fridge when he wants a snack. Thorn and her friendly alligator became local celebrities, with Rambo appearing at local events on his ATV or with his mom on her motorcycle to help support charities, wildlife education, and conservation efforts.
When she first got Rambo, he was only a foot long. By 2016, he stretched out to 6 feet long and around 125 pounds. At that size, Florida regulations stated that an alligator needed at least 2.5 acres of land to live on. Officials luckily let Rambo stay, but due to his size, he could no longer make public appearances. As of May 2022, Rambo and Mary Ann Thorn were still living happily together.
For another scaly canine alternative, meet MacGyver, a Red Tegu Lizard that thinks he's a dog.