 No Pets (Sam Altman)
Sam Altman does not have any reported pets.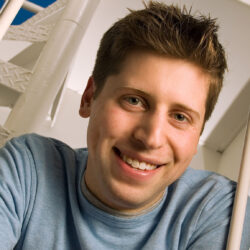 Birthday
April 22, 1985 (37)
Sam Altman is an entrepreneur and investor who is currently the CEO of OpenAI, a research laboratory focused on developing artificial intelligence in a responsible manner. Altman is also the co-chairman of the OpenAI board and serves on the board of directors for several other companies. Prior to joining OpenAI, Altman was the president of the startup accelerator Y Combinator, where he helped fund and mentor numerous early-stage companies. He is also a co-founder of the mobile location-based social networking company Loopt, which was acquired by Green Dot Corporation in 2012. Altman is known for his strong belief in the potential for technology to positively impact the world and his focus on developing innovative solutions to complex problems.