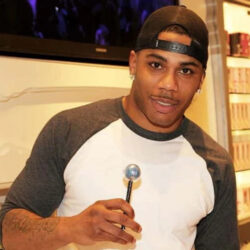 Birthday
November 2, 1974 (48)
Nelly, born Cornell Iral Haynes Jr., is a Grammy-winning rapper, singer, and songwriter from St. Louis, Missouri. He burst onto the scene in the early 2000s with his debut album "Country Grammar," which went diamond and solidified his place as one of the most successful artists of the decade.
In addition to his successful music career, Nelly has also dabbled in acting, appearing in films like "The Longest Yard" and "Reach Me" and TV shows like "CSI: NY" and "Real Husbands of Hollywood." He has also been a successful entrepreneur, launching his own clothing line, energy drink, and fragrance.
One of the most significant milestones in Nelly's career was his collaboration with Tim McGraw on the hit single "Over and Over." The song, which blended elements of country and hip-hop, was a massive success and showcased Nelly's versatility as an artist. He has also collaborated with a diverse range of other artists, including Justin Timberlake, Christina Aguilera, Toby Keith, and Florida Georgia Line.
Nelly has also been involved in various philanthropic efforts throughout his career. He has supported organizations like the Make-A-Wish Foundation and the National Urban League, and he founded the Jes Us 4 Jackie campaign to raise awareness of bone marrow transplants and help find a donor for his sister, who was battling leukemia.