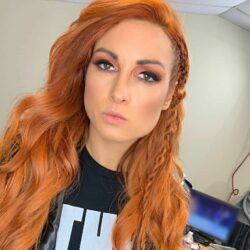 Birthday
January 30, 1987 (36)
Rebecca Quin, known professionally as her WWE name Becky Lynch, is an Irish professional wrestler. She performs under the WWE Raw brand and she is recognized as one of the high-paid wrestlers in the world. Twitter named her sixth on their list of Top Female Athletes Worldwide in 2019.
Lynch's wrestling career traces its roots back to her home country of Ireland, where she trained under the guidance of fellow wrestler Finn Balor. After spending several years refining her skills in various promotions worldwide, her defining career moment came when she was signed by WWE in 2013. Initially introduced as part of the NXT brand, she became an integral part of the so-called "Women's Revolution," which was a movement aimed at highlighting the women's division in the company and providing them with bigger and better opportunities.
Throughout her career, Lynch has crossed paths with many notable figures in professional wrestling. She was a part of the iconic "Four Horsewomen" of NXT, alongside Charlotte Flair, Sasha Banks, and Bayley, a quartet that went on to transform the perception of women's wrestling in WWE. Their collective success paved the way for significant matches and rivalries, with Lynch engaging in memorable feuds with Ronda Rousey, Asuka, Natalya, and Alexa Bliss, among others. Notably, her rivalry with Rousey and Flair culminated in a historic main event match at WrestleMania 35, where Lynch won both the Raw and SmackDown Women's Championships, a first in the history of the event.
Lynch's accomplishments in the ring are plentiful. She is a multiple-time women's champion in WWE, having held both the Raw and SmackDown Women's Championships. Additionally, her victory at the 2019 Royal Rumble match secured her a place in the main event of WrestleMania 35, which she won, making her the first woman in WWE history to hold both titles simultaneously.
Beyond the ring, Becky Lynch, like her partner Seth Rollins, has showcased a soft spot for animals. While she may not be known for large-scale advocacy work, she has frequently expressed her fondness for animals, especially dogs. Her social media profiles often feature adorable images of her and Rollins' furry family members, providing fans with a glimpse of her life outside the ring.