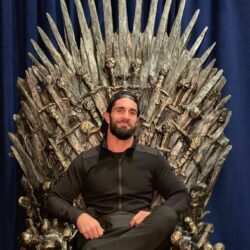 Birthday
May 28, 1986 (37)
Seth Rollins, an American professional wrestler, has etched his name in the annals of World Wrestling Entertainment (WWE) history. Born as Colby Daniel Lopez, he is most commonly known by his ring name Seth Rollins. Rollins' commitment to perfecting his craft, coupled with his inimitable style and crowd-pulling performances, have established him as an unforgettable figure in professional wrestling.
Rollins' journey began in the mid-2000s with his stint in Ring of Honor (ROH) where he competed as Tyler Black. With time, he emerged as a central figure in the company, culminating in his becoming the ROH World Champion. However, his major breakthrough arrived when he signed with WWE in 2010. Initially, he joined WWE's development territory, Florida Championship Wrestling (FCW), where he swiftly became the first-ever FCW Grand Slam Champion. His rising success led him to be a part of The Shield, one of the most dominant factions in WWE history, along with Roman Reigns and Dean Ambrose.
In terms of collaborations, Rollins has interacted with a broad range of other influential wrestlers. Within The Shield, Rollins, Reigns, and Ambrose were a formidable trio who not only held championship titles but also orchestrated unforgettable moments in the WWE universe. Rollins' betrayal of The Shield was a monumental twist, which led to his alliance with Triple H and The Authority, and subsequently positioned him as one of WWE's top heels. This shift opened the door for numerous rivalries and collaborations with stars like John Cena, Brock Lesnar, Randy Orton, and Bray Wyatt. Rollins' storied rivalry with Brock Lesnar is particularly noteworthy, as their intense battles culminated in Rollins' victory at WrestleMania 35. Rollins has also worked with a new generation of superstars like Kevin Owens, Finn Balor, and Drew McIntyre, pushing the boundaries of what fans can expect from WWE.
In WWE alone, Rollins has secured multiple championship titles. He's a two-time WWE Universal Champion and two-time WWE Champion. His Money in the Bank win in 2014 set the stage for one of the most memorable moments in WrestleMania history when he cashed in his contract during the main event of WrestleMania 31 to win the WWE Championship. Rollins is also a Grand Slam Champion, having won every active championship in WWE.
Beyond his wrestling exploits, Rollins has shown a love for animals, particularly dogs. His Instagram feed features many images of him and his pets, showing another, softer side to the wrestling superstar. He and his wife, fellow wrestler Becky Lynch, share their home with several rescue dogs.