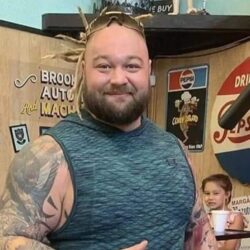 Birthday
May 23, 1987 (36)
Windham Rotunda, better known by his ring name Bray Wyatt, is an American professional wrestler currently signed to WWE. He is known for his charismatic, eerie character and his distinctive singing entrance. Wyatt has held several championships throughout his career including the WWE Championship, Universal Championship, and the Intercontinental Championship. He is regarded as one of the most popular and innovative wrestlers in recent history.
Wyatt is most known for his portrayal of two unique characters: Husky Harris and Bray Wyatt. Initially debuting as Husky Harris in 2010 as part of the Nexus, a heel wrestling stable, Wyatt's role as a robust, intimidating powerhouse was a preview of his latent talent. However, it was his transformation into the enigmatic character Bray Wyatt that truly marked his breakout period. Leading a faction known as the Wyatt Family, Bray's uncanny blend of horror and intrigue, coupled with his eerie promos and unique in-ring style, made him a standout in the wrestling industry.
Throughout his career, Bray Wyatt has crossed paths and engaged in gripping feuds with multiple notable figures in wrestling. His collaborations, both as allies and adversaries, have included renowned names like Randy Orton, John Cena, Daniel Bryan, Roman Reigns, Braun Strowman, Seth Rollins, Undertaker, Finn Balor, Matt Hardy, and Alexa Bliss. His feuds have consistently been a highlight of WWE programming, offering memorable moments and storytelling, including unforgettable spectacles like the "Firefly Fun House" match against John Cena at Wrestlemania 36.
In terms of distinctions and titles, Bray Wyatt's career is marked by a multitude of impressive achievements. His distinctive character work led to him securing the WWE Championship and the WWE Universal Championship twice, highlighting his impact and stature in the industry. Furthermore, his match against Daniel Bryan at the Royal Rumble in 2014 was awarded the Slammy Award for Match of the Year, underlining the allure of his in-ring performance.