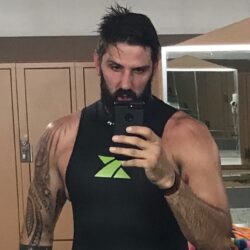 Birthday
May 7, 1984 (39)
Kevin Owens is a Canadian professional wrestler, currently associated with World Wrestling Entertainment (WWE), acclaimed for his compelling performances and standout character work. His dynamic persona, enhanced by his robust in-ring ability and knack for storytelling, has propelled him into the highest echelons of professional wrestling.
Owens, whose real name is Kevin Yanick Steen, rose to prominence primarily in the WWE, but not before making a name for himself in independent wrestling promotions. His career commenced in the early 2000s with notable stints in Combat Zone Wrestling (CZW) and Ring of Honor (ROH), where he demonstrated a unique style combining agility, strength, and captivating mic skills. However, his groundbreaking work has been in WWE, where he has held the Universal Championship, Intercontinental Championship, and United States Championship multiple times. In memorable bouts with the likes of John Cena, Seth Rollins, and Roman Reigns, Owens displayed his ability to create emotionally charged, dramatic performances that resonated with fans globally.
Kevin Owens' career is characterized by significant collaborations with numerous fellow professional wrestlers. Notably, his longstanding association with Sami Zayn, which has transcended multiple promotions, stands out. Their on-screen relationship has oscillated between fierce rivalry and loyal camaraderie, creating captivating narratives for fans. Owens also had intriguing storylines with wrestlers like Chris Jericho, with whom he formed an entertaining and ultimately treacherous partnership. Additional noteworthy interactions include feuds and partnerships with Vince McMahon, Shane McMahon, Braun Strowman, Finn Balor, Daniel Bryan, AJ Styles, Randy Orton, and Kofi Kingston, to name a few.
Owens' wrestling career has been marked by prestigious titles and career-defining moments, and although his journey is far from over, the Canadian superstar has already left an indelible mark on professional wrestling history. He won the WWE Universal Championship in 2016, a testament to his dominance and high standing within the organization. His reigns as the Intercontinental and United States Champion further attest to his multifaceted skills and abilities. Owens also won the NXT Championship in his first year with WWE's developmental brand.