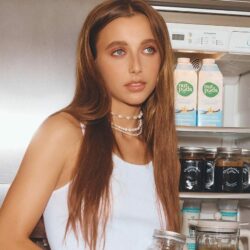 Birthday
May 22, 2001 (22)
Emma Chamberlain is an American social media influencer, YouTuber, and podcaster. Chamberlain started as a YouTuber and quickly gained a massive following through her unique and relatable content, which often features her daily life, humorous observations, and witty commentary. Her videos have resonated with audiences around the world, and she has become a leading voice in the online content creation space.
Chamberlain's milestone in her career was the launch of her podcast, Anything Goes with Emma Chamberlain. The podcast, which debuted in 2019, quickly became a hit among listeners, and it features candid conversations with guests about a variety of topics, ranging from relationships to mental health. Chamberlain's relatable and authentic approach to podcasting has helped her to build an even larger audience, and she has collaborated with several notable guests on the show.
Chamberlain has collaborated with several celebrities and influential people throughout her career. She has worked with other YouTubers, such as James Charles and Shane Dawson, as well as with mainstream celebrities, such as Justin Bieber and Paris Hilton. She has also collaborated with various brands, including Louis Vuitton and Calvin Klein, and has been featured in publications such as Vogue and Forbes.