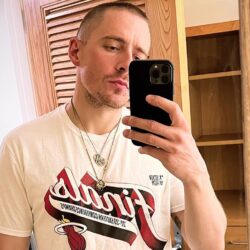 Birthday
December 13, 1991 (31)
Dermot Kennedy is an Irish singer-songwriter who has firmly established himself on the global music scene with his soul-stirring vocals and evocative songwriting. From busking on the streets of Dublin to selling out shows internationally, his journey resonates deeply with fans around the world.
Kennedy's distinct blend of folk and hip-hop sounds took a definitive shape with his debut studio album, "Without Fear," released in 2019. The album hit the top of the Irish Albums Chart and the UK Albums Chart, cementing his place in contemporary music. Songs like "Outnumbered" and "Power Over Me" not only dominated airwaves but also touched the hearts of many, shedding light on his profound ability to capture universal emotions.
His rise to global recognition brought about collaborations with several high-profile celebrities and musicians. Ed Sheeran, a fellow singer-songwriter, recognized Kennedy's depth, leading to a live duet of the song "Guiding Light." Kennedy has also performed alongside Taylor Swift, shared stages with Sam Smith, collaborated with Meduza on the track "Paradise," and engaged in fruitful exchanges with the likes of James Bay, Lewis Capaldi, Jessie Reyez, Mike Dean, and Paul Mescal.
In terms of recognition, Kennedy's talent hasn't gone unnoticed. In 2019, his debut album "Without Fear" earned him a No. 1 spot on both the Irish and UK Album Charts, a testament to the sheer impact of his music. Furthermore, his song "Outnumbered" achieved Platinum certification in the UK.