A dog in Swift Current, Saskatchewan fell through the ice of a frozen river. Luckily, a quick call to the fire dept. saved his life.
While out on an off-leash walk, the pup was walking along the river not knowing how thin the ice was. Swift Current Fire Chief Denis Pilon filmed the rescue and posted it to his Facebook page.
In the video, you can see a firefighter attached to a rope sliding out to rescue the pup. He briefly falls through the ice himself but manages to get the frozen doggo to safety. The dog tries to limp his way back to his parents, but his legs are numb. Thank dog for Canadian firefighters!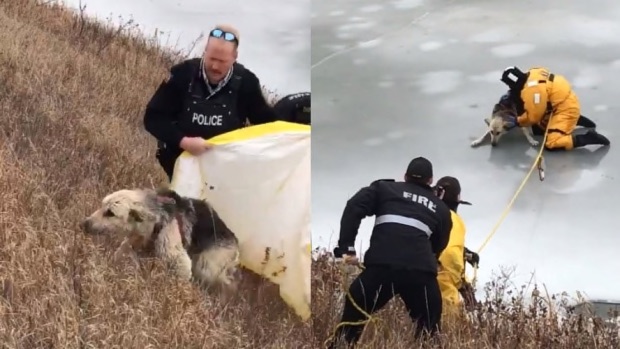 People are warned by fire Chief Denis Pilon to stay off the ice. If you are unsure of whether or not a frozen body of water is safe, you can measure the thickness of the ice. There should be minimum 10 centimeters of ice to walk on, 20 centimeters to drive a snowmobile or ATV on, 30 centimeters to drive a car or light truck on, and more than 30 centimeters for a heavy truck.
For more dog rescue tales with happy endings, check out this dog pulled from a mining shaft.