 Dog (Dog)
The Great Khali has a dog.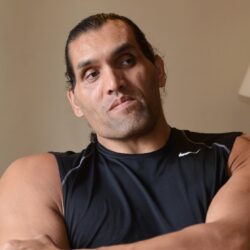 Birthday
August 27, 1972 (51)
Dalip Singh Rana, better known by his ring name The Great Khali, is a celebrated Indian professional wrestler and actor who reached international fame through his career in the World Wrestling Entertainment (WWE). A formidable figure towering at over seven feet tall, Khali was the first Indian-born champion in WWE history, leaving a lasting legacy in the world of professional wrestling.
The Great Khali's breakout role came in WWE, where he made his debut in 2006. His initial rivalry with The Undertaker, one of WWE's most legendary performers, cemented his place as a notable and intimidating presence in the wrestling ring. His crowning achievement came in 2007 when he won the World Heavyweight Championship, a significant milestone for his career. Beyond wrestling, Khali made successful ventures into the world of cinema. His cinematic debut came in 2005 with the Hollywood film 'The Longest Yard,' where he played a convict and former professional wrestler. Further stints in the Bollywood film industry followed, with roles in films such as 'Kushti' and 'Ramaa: The Saviour,' enhancing his profile in his home country.
The Great Khali's career has been marked by his collaborations with other high-profile personalities within the wrestling and entertainment industry. Inside the ring, he has had memorable rivalries with iconic WWE superstars like John Cena, Bautista, and Edge. Additionally, he's shared screen time with Adam Sandler and Chris Rock in 'The Longest Yard,' showcasing his versatility. His Bollywood ventures also led to collaborations with well-known Indian actors such as Salman Khan, Sanjay Dutt, and Sohail Khan. Moreover, his participation in the popular reality TV show 'Bigg Boss' season 4 widened his audience base, where he interacted with notable personalities such as Bollywood actress Shweta Tiwari and model Ashmit Patel.
Throughout his career, Khali has earned many distinctions and titles, testament to his prowess and popularity in professional wrestling. His victory in the 20-man Battle Royal in 2007 crowned him the World Heavyweight Champion, marking him as the first Indian to hold this title. Moreover, his inclusion in the Punjabi Sports Hall of Fame underscores his impact on his home country's sports culture. His larger-than-life persona even landed him a wax figure at the Madame Tussauds museum in New Delhi.