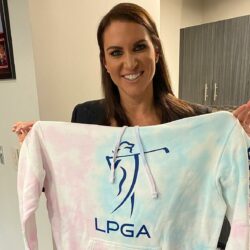 Birthday
September 24, 1976 (46)
Stephanie McMahon is an American businesswoman, professional wrestling personality, and actress. She is currently the Chief Brand Officer of WWE, and is widely considered one of the most powerful and influential women in the wrestling industry. She began her career in WWE in the 1990s, working behind the scenes in various roles and eventually becoming one of the company's top executives. She is also a on-screen character in the WWE, she has been a heel and a face and has been involved in storylines for over two decades.
Stephanie is the daughter of Vince McMahon, the chairman and CEO of WWE, and Linda McMahon, the former Administrator of the Small Business Administration. She is a fourth-generation wrestling promoter and has been part of the McMahon family legacy. She has been on-screen character since 1999, as an authority figure and a wrestler, she has been involved in several memorable storylines and matches, such as her rivalry with Trish Stratus and her alliance with her husband Triple H.
Stephanie is also an active philanthropist and has been actively involved in several charitable organizations such as Make-A-Wish Foundation and the Special Olympics. She is also a member of the Board of Directors of the Boys & Girls Clubs of America and the American Red Cross. She continues to be a respected and accomplished figure in the entertainment industry, known for her ability to navigate the world of professional wrestling and her dedication to giving back to the community.