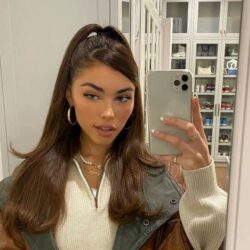 Birthday
March 5, 1999 (24)
Madison Beer is a singer, songwriter, and actress who has captured the hearts of fans around the world with her powerful voice and dynamic performances. She first gained fame as a teenager, when a video of her singing went viral on YouTube and caught the attention of pop superstar Justin Bieber. Since then, she has gone on to release hit singles, collaborate with other major artists, and advocate for animal welfare.
One of Madison's breakout roles was as a musical guest on the popular late-night talk show "The Tonight Show Starring Jimmy Fallon." She also starred in the music video for the song "All Day and Night" by Jax Jones and Martin Solveig, which has over 100 million views on YouTube. Madison has also made appearances in various TV shows and movies, including "Entourage," "Louder Than Words," and "The Fosters."
A major milestone in Madison's career was the release of her debut EP, "As She Pleases," in 2018. The EP features the hit singles "Dead" and "Home with You," both of which have millions of streams on Spotify. The EP showcased Madison's talent for writing catchy pop songs and cemented her status as one of the most exciting young artists in the music industry.
Madison has collaborated with a number of influential artists and celebrities throughout her career. In 2019, she teamed up with DJ and producer Jonas Blue for the hit song "Mama." She has also worked with rapper Offset on the song "Hurts Like Hell" and with singer David Guetta on the track "Blame It On Love." Additionally, Madison has toured with major artists such as Shawn Mendes and The Chainsmokers, Drew Taggart and Alex Pall.