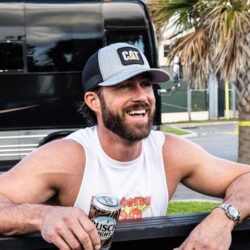 Birthday
October 18, 1988 (35)
Riley Green is an American country music singer and songwriter, notable for his single "There Was This Girl" and his album "Different 'Round Here." His music, deeply rooted in his Southern upbringing, reflects the quintessential country spirit and small-town narratives.
Green's journey into music followed an athletic stint as a Division 1 FCS Quarterback at Jacksonville State University and a contestant on the CMT reality show Redneck Island. His early career saw a series of EPs released between 2013 and 2017, building a foundation for his later success. In 2018, he signed with Big Machine Label Group, marking a significant step in his recording career. The release of "There Was This Girl" brought him into the limelight, with the song's neotraditional country influence earning it a spot on the Country Airplay charts and a music video release.
Following up with "In Love by Now" in April 2019, co-written with industry veterans like Rhett Akins and Marv Green. The song's music video, shot in Belize, added a visual narrative to his evocative lyrics. "I Wish Grandpas Never Died" was another poignant single that prefaced the release of his debut album, "Different 'Round Here," which arrived in September 2019. His collaborative efforts extend to working with Justin Moore on a song for Moore's 2023 album, "Stray Dog."
Green's work has been recognized by the Academy of Country Music, which awarded him the New Male Artist of the Year Award in 2019.