 No Pets (Sarah Mlynowski)
Sarah Mlynowski does not have any reported pets.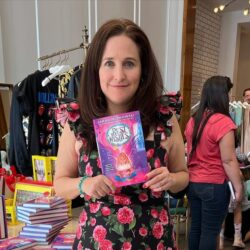 Birthday
January 4, 1977 (46)
Sarah Mlynowski is a Canadian author who has garnered significant recognition for her contribution to both adult and young adult fiction. With a career that spans more than two decades, her work is characterized by its wit, warmth, and relatable characters, resonating with readers across age groups and geographies.
While Mlynowski's repertoire is extensive, she is perhaps best known for her 'Whatever After' series. This unique collection of books ingeniously reimagines popular fairy tales with a contemporary twist, seen through the eyes of siblings Abby and Jonah. Another standout series is 'Magic in Manhattan', which delves into the lives of two sisters, one of whom has magical abilities. These novels have not only captivated young audiences but have also struck a chord with adults, creating a unique cross-generational appeal.
Throughout her career, Mlynowski has collaborated with numerous prominent authors. Notably, she teamed up with Lauren Myracle and E. Lockhart for the 'How to Be Bad' novel, exploring the complexities of friendship and self-discovery. In addition, she worked with fellow authors Farrin Jacobs, David Levithan, and Jacqueline Green for the 'Upside-Down Magic' series. Collaborations with authors like Emily Jenkins, Corey Ann Haydu, and Lisa Greenwald, contributing to her reputation as a significant voice in young adult and children's literature.
Mlynowski's work has not gone unnoticed by industry critics and peers. Her novel 'Gimme a Call' won the 2011 Nevada Young Readers' Award, a clear testament to her ability to create engaging, relevant content for the young adult audience. Furthermore, the 'Whatever After' series was recognized in 2015 with the Ruth and Sylvia Schwartz Children's Book Award, an honor reflecting Mlynowski's talent for crafting compelling narratives that resonate with younger readers.