 No Pets (Andrew Watt)
Andrew Watt does not have any reported pets.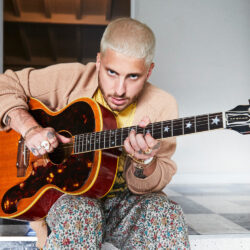 Birthday
October 20, 1990 (32)
Andrew Wotman, better known as Andrew Watt or simply Watt, is an American record producer, singer, musician, and songwriter. Watt grew up in Great Neck, New York. He attended John L. Miller Great Neck North High School, and graduated in 2008. His first professional gigs were playing guitar for Jared Evan, Cody Simpson and Justin Bieber.
In 2013, Watt was a founding member and guitarist of the rock band California Breed alongside Glenn Hughes (Deep Purple, Black Sabbath) and Jason Bonham (Foreigner). In 2015, Watt recorded and released his first label EP, Ghost In My Head. Red Hot Chili Peppers' Chad Smith and Queens of the Stone Age's Joey Castillo played drums on the record.
Watt won the Grammy Award for Producer of the Year in March 2021. He contributed to the charity tribute album The Metallica Blacklist, released in September 2021, by backing Miley Cyrus on a cover of the Metallica song "Nothing Else Matters".