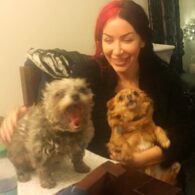 Barnabus and Gremlin
Barnabus and Gremlin are two rescue dogs who have found not only a home but also a loving extended family. Gremlin was the first to be rescued, followed by Barnabus two years later. Ashley, always busy with tours about 8 months out of every year, entrusted the care of these canine companions to their grandmother.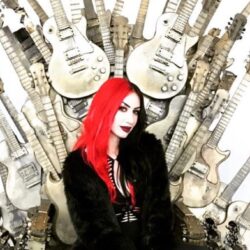 Birthday
February 21, 1985 (38)
Ashley Costello is the lead vocalist for New Years Day, an American rock band hailing from Anaheim, California, and has played a significant role in shaping the modern rock music landscape.
New Years Day was formed in 2005, and since then, Costello has been instrumental in its success. The band has released several albums that have gained popularity, including "My Dear" (2007), "Victim to Villain" (2013), and "Unbreakable" (2019). With her unique vocal style and intense performances, she has helped the band establish a distinct identity within the rock music genre.
Collaborating with other musicians has been a hallmark of Costello's career. She has worked with notable artists such as Nikki Sixx of Mötley Crüe, Chris Motionless of Motionless in White, Ronnie Radke of Falling in Reverse, Maria Brink of In This Moment, and members of Halestorm, including Lzzy Hale.
Under her leadership, New Years Day has won the Independent Music Award for Best Song – Hard Rock/Metal. Their album "Malevolence" reached No. 45 on the Billboard 200.