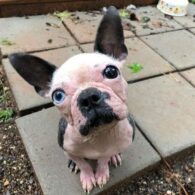 Scabigail van Buren Brown (Dog)
Celebrity chef Alton Brown's first rescue dog is a Boston Terrier nicknamed "Scabigail" with her real name being Abigail van Buren Brown, who he adopted in May 2018. Scabigail's funny nickname came from her sad start in life. The Atlanta Humane Society rescued a pack of 77 dogs living in inhumane conditions. Scabigail was found with them, completely covered in itchy mange, red inflamed skin, and scabs all over her face and neck. Brown and his wife Elizabeth follow many rescue organizations and spotted poor Scabigail. They quickly adopted and started her "Scabs to riches" story.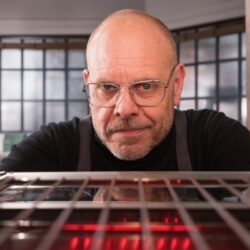 Birthday
July 30, 1962 (61)
Alton Brown Jr.is an American television personality, food show presenter, chef, author, actor, cinematographer, and musician. He is the creator and host of the Food Network television show Good Eats that ran for 14 seasons, host of the miniseries Feasting on Asphalt and Feasting on Waves, and host and main commentator on Iron Chef America and Cutthroat Kitchen. Brown is a best-selling author of several books on food and cooking. A recap series titled "Good Eats Reloaded" aired on Cooking Channel starting in October 2018, and a true sequel series, Good Eats: The Return, premiered on August 25, 2019, on Food Network.