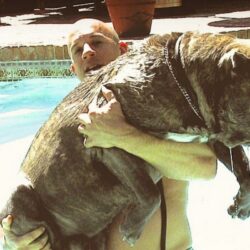 Birthday
July 18, 1967 (55)
Vin Diesel aka Mark Vincent, born, had humble beginnings in a New York theatre. He and several friends broke in with the intent to vandalize, caught by the creative director they were given scripts and an opportunity to perform instead of criminal charges.
Vin has made a name for himself through his well known role as the tough-as-nails Torrento in the never-ending Fast and the Furious series, his part in Saving Private Ryan and the anti-hero role as Riddick in Pitch Black. Recently, Vin captured our hearts as the beloved Groot in Guardians of the Galaxy. Thankfully he'll be returning in both sequels this year. We can also look forward to some more shirtless action next to the stone cold fox and presumably BFF Ruby Rose in xXx: The Return of Xander Cage.
Vin Diesel is notoriously private when it comes to his personal life. With three beautiful kids and a wife like Paloma Jiménez who can blame him for wanting to keep it all for himself? He is however, quite outspoken about his love for Dungeons and Dragons. Vin Diesel has a reported net worth of $100 million.