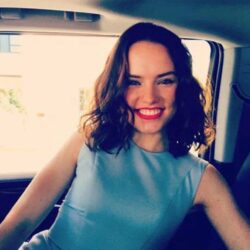 Birthday
April 10, 1992 (31)
Daisy Ridley is an English actress best known for playing the lead role as Rey in Star Wars: The Force Awakens (2015). She showed acting talent at a young age, winning a scholarship to the Tring Park School of the Performing Arts, attending from age 9 to 18. She enrolled in university after, but soon dropped out to focus on her acting career.
She has several small TV roles, with her first feature film being Scrawl in 2015. As a virtually unknown actor, she managed to get her big break by impressing director J.J. Abrams, which led to her staring in Star Wars: The Force Awakens. She returned to lead Star Wars: The Last Jedi in 2017.
Beyond the Star Wars universe, Ridley has explored a variety of roles across both film and television. She lent her voice to the character Cottontail in the animated adaptation of "Peter Rabbit" and took on a lead role in the murder mystery "Murder on the Orient Express," directed by Kenneth Branagh. Her performance in the indie drama "Ophelia" showed her range as an actress, deviating from the action-packed roles she was previously known for.
In her career, Ridley has worked alongside a diverse group of artists and influencers in the entertainment industry. Notably, she collaborated with John Boyega, Oscar Isaac and Adam Driver in Star Wars. In "Murder on the Orient Express," she shared the screen with an ensemble cast that included the likes of Judi Dench, Johnny Depp, and Michelle Pfeiffer. Her voice acting in "Peter Rabbit" placed her alongside stars like James Corden and Margot Robbie. Ridley also worked with Tom Holland in the science fiction film "Chaos Walking" and appeared alongside Willem Dafoe in the video game "12 Minutes." Other collaborators include Naomi Watts in "Ophelia," Josh Gad in "Murder on the Orient Express," and Penélope Cruz in the same film.
Ridley's performance as Rey earned her the MTV Movie Award for Breakthrough Performance, putting her on the map as an actress to watch. She was also nominated for a Teen Choice Award for her performance in "Murder on the Orient Express."