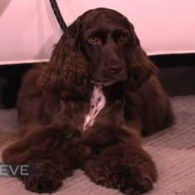 Chocolate
Steve Harvey and his wife Marjorie have a cocker spaniel named Chocolate. When Harvey brought a pet psychic onto his TV show, the psychic said that Chocolate prefers carpet to hard floors. Steve then quipped back that unless Chocolate started paying the bills, the floors at home are staying hardwood.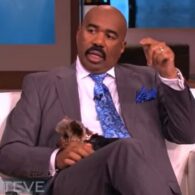 Three more dogs
Steve Harvey and his wife Marjorie have five dogs total, including Bear and Chocolate. When he had a pet psychic on his TV show, he was seen sharing his seat with two cute Yorkshire Terriers. They have one other dog that we have no info on. If you know the names of these Yorkies or their mystery 5th dog, please let us know!
Steve Harvey (Broderick Stephen Harvey, Sr) is an American TV host, comedian, actor, writer, and producer. His career as an entertainer started in the early 1980s as a stand-up comedian and through the 1990s for hosting Showtime at the Apollo and The Steve Havey Show. Today, he's most well known for The Steve Harvey Morning Show, The Steve TV Show, and as host of Family Feud. He's married to Marjorie Harvey and the adoptive father of Majorie's daughter, Lori Harvey.