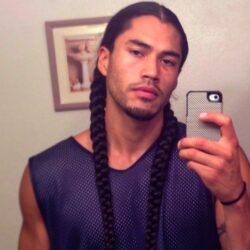 Birthday
June 27, 1985 (38)
Martin Sensmeier is an American actor and model. Of Alaska Native and European-American descent, he is known for playing various Native American roles. He starred in the 2016 remake The Magnificent Seven and had a recurring role as "Wanahton" in the HBO television series Westworld (2018). More recently, he has played a physical therapist in the TV series Yellowstone and a Comanche warrior named Sam in the prequel 1883, both directed by Taylor Sheridan.
Sensmeier's film career began with his role in "The Magnificent Seven," which was a pivotal point in his acting journey. He has since appeared in films such as "Wind River" (2017) and "The Ice Road" (2021). In television, he is known for his role as Martin in the series "Westworld" and as Wanahton in the miniseries "The Liberator."
Throughout his career, Sensmeier has collaborated with numerous notable figures in the film industry. These include working with directors like Antoine Fuqua in "The Magnificent Seven" and Taylor Sheridan in "Wind River." He has shared the screen with actors such as Denzel Washington, Chris Pratt, and Liam Neeson.