The Gordon Ramsay of Reptiles. The Emeril Lagasse of Lizards. The Alton Brown of Bearded Dragons. Meet Lenny, a celebrity chef that ranks among the names I just mentioned, who also happens to be a Bearded Dragon.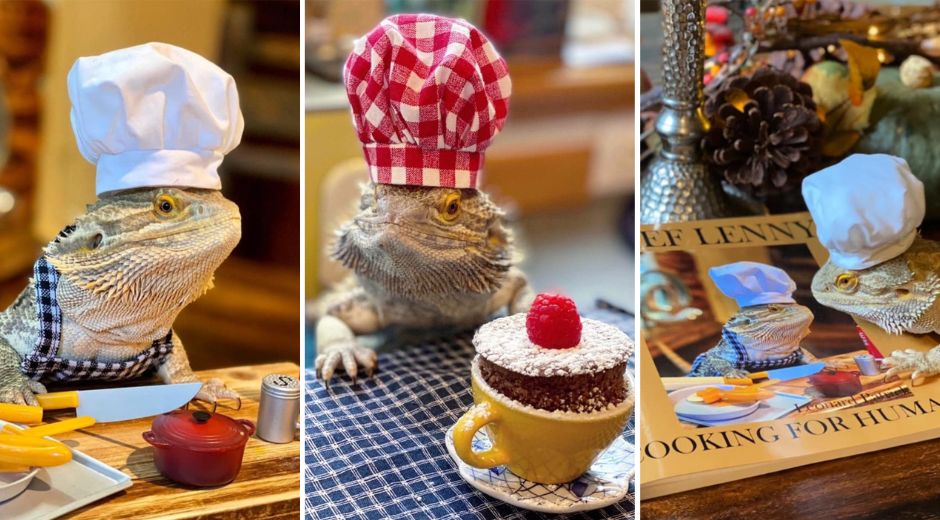 Lenny lives near Seattle, Washington, with his human/manager/ghostwriter Valerie Musser, who is also a chef. During the pandemic, Musser's work as a chef and caterer was put on hold. She took that opportunity to help Lenny launch his celebrity chef career.
Lenny loves to climb up into his mini-kitchen and get dressed up for videos and photoshoots.
With the help of Musser, Lenny creates real dishes, but they're for humans. Lenny has his own dietary preferences, such as grubs. But of course, when dines on grubs, he makes it fine dining.
If you're wondering who the "and Sons", you must know that any top chef has a talented team supporting them. The same goes for Lenny, who has fellow lizards Lewis and Samson helping out. You can almost smell the fresh baked Cruffins by Chef Lewis below.
Musser says the fame has gone a bit to his head. But he's made appearances on The Kelly Clarkson Show and The Drew Barrymore Show! (FYI Barrymore is a proud owner of a Bearded Dragon).
Like any top celebrity chef, Chef Lenny is a published author! (with the help of his human/ghostwriter) And assuming you're reading this and you're not a lizard, don't fret, as all these recipes are for humans!
You can follow Chef Lenny and Sons at @whosagoodlizard on Facebook, Instagram, and TikTok.
Related: Celebrities with Pet Bearded Dragons