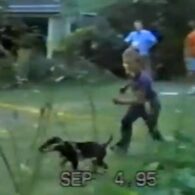 Belle (Dog)
Jason and Travis Kelce's first dog was named Belle, who they got in 1995. Belle was named after his family's favorite baseball player, Albert Belle of the Cleveland Indians. You can catch a glimpse of their pup in their home videos included in the video below. Childhood Cats (Cat)
While they currently only have dogs, Jason and Travis Kelce's first pets were cats. When they were really young, Jason and Travis Kelce had several pet cats, before they were allowed their first dog. Travis said their main kitten was Flash, named after the comic book character due to his impressive speed.
And if you're a Taylor Swift fan wondering if Travis Kelce likes cats, we've already investigated it for you.
Birthday
November 5, 1987 (36)
Jason Kelce is an American football center for the Philadelphia Eagles of the National Football League (NFL), best known for his iconic speech at the Eagles' 2018 Super Bowl victory parade. He was drafted by the Eagles in the sixth round of the 2011 NFL Draft. He has made two Pro Bowls and was a First Team All-Pro selection in 2017.
Born in Cleveland, Ohio, Kelce attended Cleveland Heights High School, where he played high school football and was named All-State as a senior. He attended the University of Cincinnati, where he started all 50 games of his college career.
The Eagles selected Kelce in the sixth round (191st overall) of the 2011 NFL Draft. He was the first center that the Eagles drafted since Hank Fraley in 2000. Kelce started all 16 games in his rookie season and was named to the PFWA All-Rookie Team. In 2013, he was selected to the Pro Bowl, becoming the first Eagles center to make the Pro Bowl since Barnes in 1973. He was again selected to the Pro Bowl in 2017, and was named a first-team All-Pro.
Kelce has built a remarkable camaraderie not just within his team, but also with various figures in the sports world and beyond. Teammates like Carson Wentz and Fletcher Cox, rival players such as Russell Wilson and Aaron Donald, and even coaches like Doug Pederson and Andy Reid, have publicly lauded his work ethic and leadership. Additionally, Kelce's bond extends to the world of philanthropy where he's worked alongside individuals like Malcolm Jenkins, Zach Ertz, and Chris Long in initiatives to better their communities. His brother is Kansas City Chiefs tight end Travis Kelce.
Throughout his illustrious career, Kelce has amassed a variety of distinctions. He's a Super Bowl champion, a three-time First-team All-Pro, and a four-time Pro Bowl selection. One of his most memorable moments came in 2018 when he delivered a passionate, colorful speech at the Eagles' Super Bowl parade, wearing a mummer's costume, which became an iconic part of Philadelphia's sports lore.