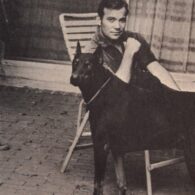 Doberman Pinschers (Dog)
William Shatner loves animals, with dogs and horses are two of his favorites. He especially loves Doberman Pinschers and has owned at least 15 over his life. Their names include his current dogs Macchiato and Espresso. His previous dogs' names include Starbuck, Cappucino, Bella, Charity, Sterling, Royale, Martika, Paris, Heidi, China, and Morgan. He also had a Doberman dog named Kirk, which we'd bet is named after his iconic Star Trek character Captain Kirk.
William Shatner OC is a Canadian actor, author, producer, director, screenwriter, and singer. He played Captain James T. Kirk of the USS Enterprise in the Star Trek franchise for seven decades and he has become a cultural icon for the role. He has written a series of books chronicling his experiences playing Captain Kirk, being a part of Star Trek, and life after Star Trek. He has also co-written several novels set in the Star Trek universe and a series of science fiction novels called TekWar that were adapted for television. Shatner also played the eponymous veteran police sergeant in T. J. Hooker (1982–1986) and hosted the reality-based television series Rescue 911 (1989–1996), which won a People's Choice Award for Favorite New TV Dramatic Series. Shatner also appeared in two episodes of the television detective series Columbo almost two decades apart. He also appeared in seasons 4 and 5 of the NBC series 3rd Rock from the Sun as the alien "Big Giant Head" to which the main characters reported.
In October 2021, William Shatner flew to space on Blue Origin, a ship created by Jeff Bezos.