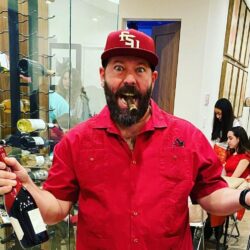 Birthday
November 3, 1972 (51)
Bert Kreischer, nicknamed "The Machine", is an American stand-up comedian, podcaster, reality television host and actor. In 1997, he was featured in an article in Rolling Stone while attending Florida State University. The magazine named Kreischer "the top partyer at the Number One Party School in the country." The article also served as inspiration for the 2002 film National Lampoon's Van Wilder. Kreischer has served as host of the television series Hurt Bert on FX as well as Bert the Conqueror and Trip Flip on Travel Channel. He also appeared in The Machine (2023), a comedy film based on his life and career.
One of Kreischer's most significant partnerships emerged in 2014 when he teamed up with comedians Bill Burr, Tom Segura, and Ari Shaffir to form the All Things Comedy network. This collective effort was designed to give comedians a creative and financial stake in their work and swiftly became a major force in the comedy podcasting scene. Meanwhile, Kreischer's "Something's Burning" series, launched in 2018, saw him cook up a storm with guests like Bobby Lee and Theo Von, adding a unique, humorous spin to the cooking show genre. In the same year, he was also a featured comic on Netflix's "The Standups," curated by comedy veteran and industry heavyweight, Robbie Praw. The bond with Tom Segura proved especially fruitful, with the pair co-hosting the wildly successful "2 Bears 1 Cave" podcast starting in 2019, its popularity soaring to the top of podcast charts.
A significant mark on his timeline was in 2017 when his Netflix stand-up special, "Secret Time," produced by Judi Marmel, was met with great success, garnering rave reviews for its balance of hilarity and heartfelt storytelling. That same year, Kreischer was named one of Variety's "10 Comics to Watch," a distinct recognition of his rising stature in the industry. Then, in 2020, Kreischer's "Hey Big Boy" became a hit, thanks to the keen directorial vision of Jeff Tomsic. It was celebrated for its raucous humor and introspective moments, cementing Kreischer's reputation as a stand-up comedian who can draw belly laughs while delivering poignant personal narratives.