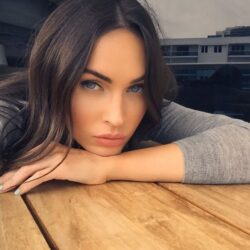 Birthday
May 16, 1986 (36)
Megan Denise Fox is an American actress and model with an estimated net worth of $5 million. Her film debut was in 2004, where she co-starred with Lindsay Lohan in Confessions of a Teenage Drama Queen. Her breakout role came in 2007, when she was cast as the female lead, playing opposite Shia LaBeouf in Michael Bay's Transformers and its sequel. After several smaller roles and movies, her next big role was starring in the reboot of Teenage Mutant Ninja Turtles and its sequel. She is an known animal lover and has a wild variety of pets. She is especially a fan of cats and helps out at the Big Cat Rescue.
She was married to actor Brian Austin Green who she has three children with. In May 2020, Green announced that he and Fox had separated after nearly 10 years of marriage.
In June 2020, she and singer Machine Gun Kelly went public about their relationship, several weeks after the release of Machine Gun Kelly's song "Bloody Valentine", whose music video features Fox.