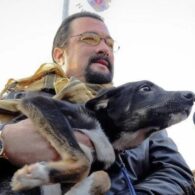 Bucharest Street Dog (Dog)
Steven Seagal "adopted" a stray dog in Bucharest on November 2013 while filming in "A Good Man" in Romania. He adopted the dog through a long-distance program where the pet will stay at the shelter, and he commits to donating 60 lei ($18) a month for the lifespan of the rescue.
There have been other photos of Steven Seagal with pets on and off set but none of the images have confirmed the pets belonged to him. In a popular photo with a black German Shepherd, the dog actually part of the film Out For Justice in 1991.
Steven Seagal is an American actor, martial artist, and filmmaker, best known for his roles in action films. He started his career in the entertainment industry as an Aikido instructor and eventually transitioned into acting, starring in numerous martial arts films in the late 1980s and early 1990s. Seagal's on-screen presence, characterized by his stoic demeanor and intense martial arts skills, has made him one of the most recognizable action stars of his generation. In addition to his acting career, Seagal is also a blues musician and has released several albums.