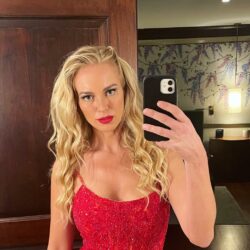 Caroline Campbell is a world-renowned violinist known for her virtuosic playing and captivating stage presence. Campbell was as a soloist with the Los Angeles Philharmonic at the age of 13. Since then, she has performed with many of the world's most prestigious orchestras, including the New York Philharmonic, the Boston Pops, and the London Symphony Orchestra. In addition to her classical work, Caroline Campbell has also recorded and performed with a wide range of popular artists, including Andrea Bocelli, Sting, and Josh Groban.
A milestone in Caroline Campbell's career was her performance at the 2014 Grammy Awards, where she accompanied Metallica for their song "One." The performance received widespread critical acclaim and introduced Caroline Campbell to a new audience of music fans. She has since continued to collaborate with the band, performing with them at concerts and festivals around the world.
Caroline Campbell has worked with several high-profile celebrities and influential people throughout her career. She has collaborated with pop icon Michael Jackson on his "This Is It" concert series and appeared in the film "500 Days of Summer" with actress Zooey Deschanel. She has also performed with singer-songwriter Rod Stewart, jazz pianist Dave Koz, and electronic music producer Zedd.
Caroline Campbell's career has been marked by numerous accomplishments and awards. She has been awarded the prestigious Avery Fisher Career Grant and has been a featured soloist at the Hollywood Bowl. In 2015, she was named one of the "Top 40 Classical Musicians Under 40" by the publication Musical America.
In addition to her musical career, Caroline Campbell is also a supporter of the American Society for the Prevention of Cruelty to Animals (ASPCA) and has used her platform to raise awareness about animal welfare issues. In an interview with the ASPCA, she stated, "Animals have always been a huge part of my life, and I believe it's our responsibility to treat them with kindness and respect."