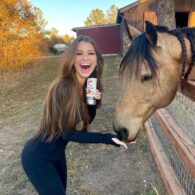 Monk Family Pets
Brooke was raised on a spacious five-acre property, where her childhood was filled with outdoor adventures, interacting with animals, and imaginative play using sticks. The family home is a sanctuary for various animals, including three cats shared among Brooke and her sisters. In addition to the feline residents, they also have frogs, dogs, and horses. One of her sisters has even taken her love for horses to a professional level, working as a horse trainer.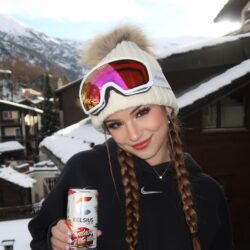 Birthday
January 31, 2003 (20)
Brooke Monk is a social media personality primarily known for her content on TikTok, where she entertains millions with her quirky videos and creative expression.
Gaining recognition on TikTok, Brooke has amassed millions of followers, capturing a broad audience with her humorous takes on everyday situations, lip-syncing, and dance routines. The traction she gained on this platform has allowed her to extend her digital presence, participating in branded campaigns and even making appearances in online series.
Brooke's collaborations with other artists, celebrities, and influencers have significantly amplified her reach. She has worked with creators such as Charli D'Amelio, Dixie D'Amelio, Addison Rae, and Avani Gregg, bringing a new layer to her content. She's also been seen engaging with Noah Beck, Bryce Hall, Josh Richards, Griffin Johnson, and Loren Gray, among others.
Brooke has hit several significant milestones in her career. She has secured a place among the top TikTok influencers, attracting major brand deals from companies eager to tap into her influence. She's also been a guest on various podcasts and online shows.