 No Pets (Danielle Haim)
Danielle Haim does not have any reported pets.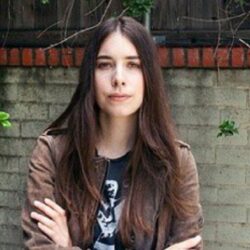 Birthday
February 16, 1989 (34)
Danielle Haim is an American musician, highly recognized for her integral role as lead vocalist and guitarist in the band 'Haim,' formed with her sisters Este Haim and Alana Haim.
The musical journey of Danielle Haim began to gain momentum with the formation of the rock band 'Haim' in 2007. However, the band's debut album, "Days Are Gone," released in 2013, brought the sisters into the limelight. With its innovative fusion of pop and rock, it showcased Danielle's distinctive guitar work and smooth, yet powerful vocals. Not resting on their laurels, the band released subsequent albums "Something to Tell You" in 2017 and "Women in Music Pt. III" in 2020. Each album signified a step forward in their evolving sound and demonstrated Danielle's growing prowess as a singer-songwriter and musician.
Throughout her career, Danielle Haim has worked alongside an impressive array of artists and celebrities. These collaborations underscore her musical versatility, weaving into genres and styles beyond Haim's familiar territory. Notably, Danielle contributed guitar and vocals to the track "Red Eye" on Kid Cudi's 2013 album "Indicud." She has also collaborated with esteemed producer Ariel Rechtshaid, co-writing and performing on tracks by artists such as Vampire Weekend and Taylor Swift. Further collaborations extend to the likes of Major Lazer, Jenny Lewis, and Bastille. In addition to musicians, Danielle's reach also extends into the film industry, where she worked with esteemed director Paul Thomas Anderson on several of Haim's music videos.
Danielle's accomplishments within the music industry are plentiful. Without leaning on the term "accolades," it is fair to say that she has received a considerable amount of recognition for her work. Haim's debut album, "Days Are Gone," was nominated for Best New Artist at the 57th Annual Grammy Awards. Later, their third album, "Women in Music Pt. III," received a Grammy nomination for Album of the Year in 2021. On a more individual note, Danielle was recognized by the music publication NME in 2014 as the 20th best songwriter in the world.