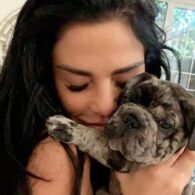 Rolo (Dog)
Katie Price and her daughter Princess had an French Bulldog named Rolo, that died in 2020 due to suffocation from being stuck under an electric armchair. This was after Price gave Rolo illegally advised CBD oil. his heartbreaking incident occurred just one month after Princess received Rolo as a 13th birthday gift from her mother, Katie Price.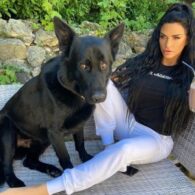 Blade (Dog)
Katie Price had a black German Shepherd guard dog named Blade that died in June 2023 after being hit by a car. It was reported by the Grove Lodge Veterinary Group that a Shepherd dog without a microchip, but wearing a brown Louis Vuitton collar, was found deceased.
Words can't express the lost of my best friend my protector my absolutely everything who had sadly passed away today I have no words to say how I'm feeling but numb and shocked rip Blade.

@katieprice, Instagram, June 2023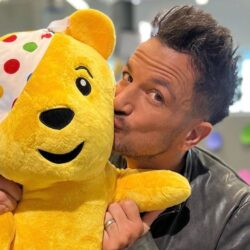 Birthday
February 27, 1973 (50)
Peter Andre is a British-Australian singer, songwriter, businessman, and television personality primarily known for his 1996 hit single "Mysterious Girl."
Making his initial mark in the entertainment industry as a singer, Andre's career got a considerable boost with the release of his album "Natural," which featured the hit single "Mysterious Girl." This album was certified platinum, allowing Andre to expand his career to other avenues such as television and business. He released several other albums, including "Time" and "Revelation," that received critical and commercial success, marking him as a consistent performer in the music industry.
Collaborations form a significant aspect of Peter Andre's career. His collaborative ventures include work with fellow artists like Shaggy on the song "Room in My Heart," Warren G on "All Night, All Right," and Bubbler Ranx, who featured on "Mysterious Girl." In television, he's collaborated with presenters such as Holly Willoughby and Phillip Schofield on "This Morning," and was a frequent face alongside Katie Price during their highly publicized relationship. His business ventures are also far-reaching, with partnerships with individuals like Theo Paphitis in launching a coffee shop chain and Rob Knight for the clothing line "New York Coffee Club."
Over the years, Peter Andre has earned numerous recognitions. For example, he won the 'Best Male Singer' at the Smash Hits Poll Winners Party in 1994. He also secured a Logie Award for 'Most Popular Music Video' for "Mysterious Girl." His television series "Peter Andre: My Life" received high ratings, making it one of the most-watched shows in its time slot. Additionally, his album "Accelerate" charted within the UK Top 10, adding to his repertoire of successful projects.