 Rocky (Dog)
Donovan McNabb had a Belgian Malinois named Rocky that he adopted in 2009.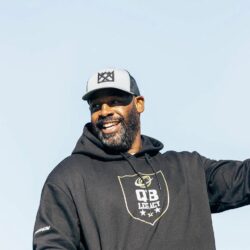 Birthday
November 25, 1976 (47)
Donovan McNabb is a former American football quarterback who made a name for himself during his 13 seasons in the NFL. McNabb played for the Philadelphia Eagles, Washington Redskins, and Minnesota Vikings, earning numerous accolades along the way. Some of his most notable accomplishments include six Pro Bowl selections, leading the Eagles to Super Bowl XXXIX, and being inducted into the Philadelphia Eagles Hall of Fame.
McNabb has also dabbled in broadcasting, working as an NFL analyst for ESPN and Fox Sports. He has appeared on various television shows and films, including an episode of "The Game" and the movie "The Cookout."
Throughout his career, McNabb has collaborated with several notable figures in the entertainment industry. He has appeared on "The Ellen DeGeneres Show" and "Late Night with Jimmy Fallon," among others. McNabb has also been involved in various philanthropic endeavors, including his work with the American Diabetes Association and his own charity, the Donovan McNabb Fund.
Although McNabb has not publicly advocated for animal non-profit organizations, he has been known to have a love for dogs. McNabb has also been involved in events benefiting animal charities, such as the "Paws for Cause" event hosted by the Philadelphia Eagles to support the Pennsylvania SPCA.