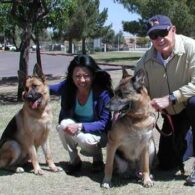 Gene and Keanu
While filming "The Replacements" with Keanu Reeves in Baltimore, Gene Hackman came across two German Shepherds that walked into the stadium that Warner Bros. had setup for their scene. The cast fed and cared for the strays, and later brought them to Animal Rescue Inc. Gene named the two dogs Gene and Keanu, then later went to the shelter to visit the dogs. Gene later adopted Gene, but not before flying out his two German Shepherds in New Mexico to see if they would get along first.
Gene Hackman is an American actor and novelist who has established himself as one of the most prolific actors of his generation. He was born in San Bernardino, California, and raised in Danville, Illinois. Hackman started his career as an actor in the 1960s and quickly became a household name in Hollywood, thanks to his standout performances in various movies and television shows. He has won numerous awards, including two Academy Awards, four Golden Globe Awards, and one Screen Actors Guild Award.
Hackman's breakout role came in the 1967 film "Bonnie and Clyde," in which he portrayed the character of Buck Barrow. The film was a critical and commercial success, and it helped establish Hackman as a leading actor in Hollywood. He went on to star in several other successful movies, such as "The French Connection" (1971), for which he won his first Academy Award, "The Conversation" (1974), and "Superman" (1978), in which he played the iconic character of Lex Luthor.
Hackman's collaborations with other artists and celebrities are also noteworthy. He has worked with some of the most talented and influential people in Hollywood, including Clint Eastwood, Dustin Hoffman, Robert Duvall, and Marlon Brando. Hackman and Eastwood appeared together in the 1995 film "Unforgiven," which won four Academy Awards, including Best Picture. He also worked with Hoffman in the 1973 film "The Graduate" and with Duvall in the 1983 film "Tender Mercies."
Hackman is also an advocate for animal rights and has been actively involved in several animal non-profit organizations. He has donated generously to organizations such as The Humane Society and WildAid, and he has even written a novel titled "Escape from Andersonville" that explores the relationship between humans and animals during the Civil War.
Hackman has also been recognized for his contributions to literature. He has written several novels, including "Escape from Andersonville," "Pursuit," and "Payback at Morning Peak," which have received critical acclaim.