 No Pets (Kimi Räikkönen)
Kimi Räikkönen does not have any reported pets.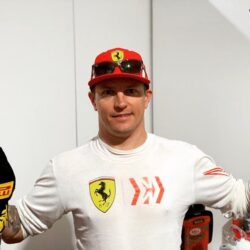 Birthday
October 17, 1979 (43)
Kimi Räikkönen is a Finnish racing driver who has gained notable recognition as a Formula One competitor, often referred to by fans and media as "The Iceman."
Navigating the tracks of Formula One for almost two decades, Kimi's journey is filled with incredible milestones. He made his Formula One debut in 2001 with Sauber. With Scuderia Ferrari, he clinched the World Drivers' Championship title in 2007, creating a moment that is still vivid in the memories of many motorsport enthusiasts. Throughout his career, Kimi has raced for elite teams, including McLaren, Lotus, and Alfa Romeo Racing
Over the years, Kimi has worked alongside and against some of the biggest names in the sport. His relationships with fellow drivers such as Sebastian Vettel, Fernando Alonso, Felipe Massa, and Juan Pablo Montoya have been a mix of camaraderie and competition. Moreover, his interactions with icons like Lewis Hamilton, Michael Schumacher, Daniel Ricciardo, Valtteri Bottas, and Jenson Button have provided fans with memorable on-track battles and off-track moments.
Kimi's journey has not been without its share of distinctions and titles. Apart from the 2007 World Championship, he has secured multiple Grand Prix wins across different tracks worldwide. His resilience has been evident as he's one of the few drivers to have competed in 300 Grands Prix.