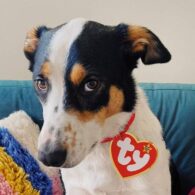 Benji (Dog)
Ava Phillippe, daughter of Reese Witherspoon and Ryan Phillippe, has a rescue dog named Benji.
She had this to say on Instagram when she adopted him " This is Benji! 🐾 He's from the @bestfriendsanimalsociety sanctuary in Southern Utah and is a ✨dream✨ of a rescue dog. He loves to cuddle and meet new friends (human & canine) and has quickly adjusted to life in his new home environment. Benji also enjoys squeaky toys, outdoor adventures, and anything he is allowed (or not allowed) to eat. He is the happiest, smartest boy, and I'm so grateful to be his person. I cannot wait for him to perfect his manners and become his full, goofy self as time goes on!
I want to give many thanks to Best Friends Animal Society for all the work they do to save the lives of animals big and small and for helping me and Benji find each other. If you love animals of any kind, you should definitely check them out! 🧡
Even though we just entered each other's lives, I feel like I've known Benji forever. I'm super excited for many adventures with this guy by my side!
P.S. Feel free to comment what breeds you think Benji is. I'm pretty sure he's got some Border Collie in him, but who knows what else! 🐶"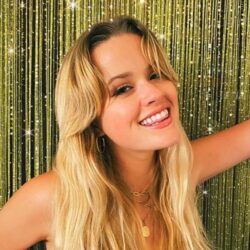 Birthday
September 9, 1999 (24)
Ava Elizabeth Phillippe is primarily known as an artist and model, gaining considerable attention in the art and fashion worlds. She is the daughter of renowned actors Reese Witherspoon and Ryan Phillippe, but has forged a distinct path of her own.
Ava has worked as a model for several high-end fashion brands. Her debut came during the Paris Fashion Week, where she walked the runway for brands like Rodarte. She has also been featured in advertising campaigns for prestigious brands such as Chanel, capturing the attention of both industry insiders and the general public. Her artistic pursuits extend to visual arts as well, with her work displayed at a number of galleries and exhibitions.
Over the years, Ava has collaborated with a variety of personalities in the fashion and art sectors. She's worked with famed photographers like Annie Leibovitz, Mario Testino, and Steven Meisel, and has been styled by Grace Coddington, Carine Roitfeld, and Edward Enninful. In the modeling scene, she's shared the stage with Kaia Gerber, Kendall Jenner, Bella Hadid, and Gigi Hadid. In the art scene, she's had collaborations with artists such as Shepard Fairey, Takashi Murakami, and Jeff Koons. Additionally, she has attended multiple high-profile events, rubbing shoulders with people like Anna Wintour, Marc Jacobs, and Karl Lagerfeld.