 Belle
Kendall Jenner currently has several pet horses. She got Dylan and Belle together and they're both European Warmblood mares.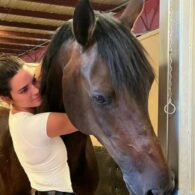 Dylan (Dragon)
Kendall Jenner's horse named Dylan is a European Warmblood mare, which is the same breed as her horse Belle. In March 2022, Kendall treated Dylan to a $9,000 Hermes brand saddle.
Kendall sparks controversy with Sofia Richie over also naming her horse "Dragon"
Kendall caused some controversy when she first got Dylan in 2018 by first naming him "Dragon". Kendall had beef with Sofia Richie, who was dating Scott Disick at the time. Sofia Richie posted a tribute on Instagram to her beloved horse named dragon who just passed away, with the caption "RIP to my beautiful dragon. Spent some of my happiest moments with this guy". Then only three weeks later, Kendall posts on Instagram that she got a new horse, with the caption "My new baby dragon". As Kendall was sure to know of Sofia Richie's horse passing away, many speculated also naming her horse "Dragon" was to upset Richie. Kendall later started referring to Dragon as Dylan.
Controversy over Kendal riding her horse Dylan while walking her dog Pyro
In May 2022, Kendall posted an Instagram video showing her riding Dyan while leading her Doberman Pyro on a lease. Many followers were upset, saying that Kendall was putting Pyro in danger of getting unintentionally hurt by Dyan as the dog could get kicked or get his leash tangled around the horse's legs.
Kendall's horse Dylan expecting a baby via surrogate
In November 2022 on an episode of The Kardashians, Kendall announced she was expecting a baby, a baby horse. She revealed that her horse Dylan was pregnant, but via a surrogate horse.
Kendall Jenner is part of the famous Kardashian family and is worth an estimated $18 million. She is the daughter of Kris Jenner and Caitlyn Jenner, sister to Kylie and half-sister to Kim Kardashian, Kourtney Kardasian and Khloe Kardasian. Her television career started at the age of 12 with the long-running Keeping Up with the Kardashians.
She started modelling at age 14 and has worked with a range of top fashion brands. Her success in modelling has also been attributed to her success on social media, making her an icon in the "instagirl era" and world of "social media modelling", where a model's online presence is as important as their looks and talent. She has also had success in several fashion and beauty ventures, often including her sister Kylie Jenner.